My heart is, and always will be yours
About this item
TOTWOO Design Concept: Jewelry takes the sun and the moon as the design concept. Boys give girls sunshine like the sun and girls like the moon, responding to the boy with infinite tenderness. The smart core is added to the jewelry, so that the couple's jewelry truly has the romantic light when the sun and the moon are in love.
Wifi Bluetooth pairing: If someone touches the bracelet, whether it is in the same city or a different place, the other party's bracelet will flash in the app after the bracelet is paired (remote connection).
TOTWOO Couple Bracelet: After the bracelet is connected to the mobile phone, various reminders can be set so that you will not miss any important information. Call reminder, APP reminder, calendar, convey your love and desire in a romantic way.
Details: On the back, the famous sentence MY HEART IS AND ALWAYS WILL BE YOURS is hand-made zircon ladies bracelet. The design of the leather strap is retractable and the size can be adjusted by itself.
TOTWOO: If you buy the goods in our shop, you will enjoy the high-quality service in our shop, and our customer service will serve you online 24 hours a day!
BUTTON BATTERY, NO NEED TO CHARGE
There are 2 button batteries in each package, which can be replaced at any time without daily charging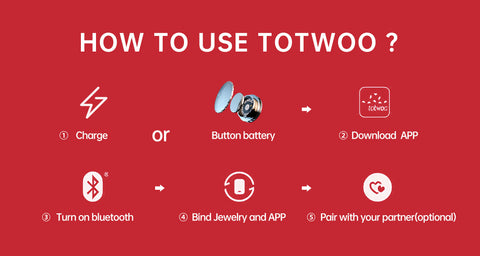 Applicable for:Male & Female
Water Resistance:Waterproof
Compatibility:IOS & Android system
Materials:Zircon, stainless steel, leather rope
Size:Adjustable Men: 15-23cm; Women 15-23cm
Battery Life:15-30 days according to your usage.
Packaging & accessories:Button Battery * 4, Smart Jewelry * 2, User Manual*2